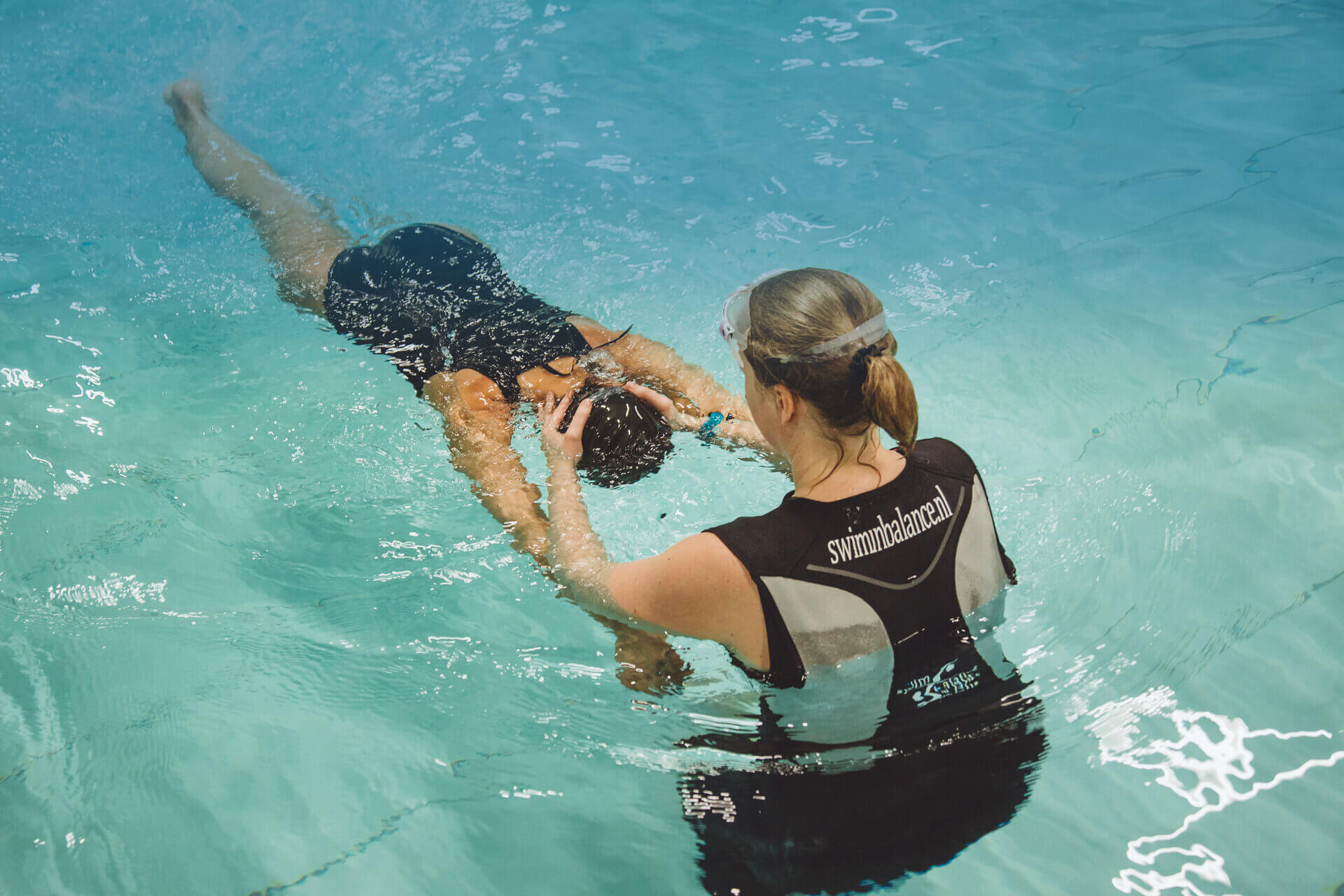 Learn effortless
en efficient
swimming
What do you want more information about?
Swimming courses for adults
Are you a beginner, someone who learns a new swimming stroke like for example front crawl, back crawl, butterfly of breaststroke wants to learn, or is it an experienced swimmer who wants to learn to swim more streamlined and with better use of the body?

We specialize in teaching you a long-distance swimming style that lasts for a long time without getting too tired and is much healthier for your neck, back and shoulders than conventional swimming.

Corona update:

There is currently a lockdown in the Netherlands that will last until January 14th
Our courses will start again from January 17, you can already register. All our teachers are double vaccinated and have received the booster. Welcome!
Do not hesitate to reserve a place in advance via this website. Your registration remains valid, even if we have to move the date due to new measures. So you don't lose your money and you can make up for it at a time that suits you, even later in the year.
We are constantly adapting to the new situation. We wish you all the best for 2022, and we hope to see you at the next courses!
Sincerely,
The Swim in Balance team
Start dates courses and workshops
View dates for next course blocks
View dates for next course blocks
View dates for next course blocks
The open water courses will start again from May 2022!
View dates for next course blocks
View dates for next course blocks
Holidays
In 2022 we will again organize three swimming holidays in Croatia, in a lovely hotel where we have been guests for years. Are you coming too?
Reviews
"I've been trying to teach myself the front crawl for years. With regular lessons you are quickly "forgotten" as a beginner. Esther teaches you, in a relaxed way, a very nice stroke without forcing your back or shoulders. From water habituation (floating) to the entire stroke. Recommended!"
"The course really made me realize that the more aligned you are in the water, the more comfortable swimming is. Very glad I learned this, thank you!"
"Celebrating a holiday and also learning something has never been so much fun!"
"Instructive course, recommended!"
"Finally working on my front crawl in a relaxed way, before I mainly did this with brute force, but now through Swim in Balance courses and exercises this is done in a relaxed way, very happy with it."
"This special journey has brought me a lot, through the Alexander swimming technique and the relaxing way of teaching I have become friends with water again. Besides this "friendship reunited", other wonderful people and experiences have come my way. Thanks for this special week."
"My experience with the course was teaching the professional approach of the correct technique, in both the group instructions and the individual guidance, as well as the conviviality."
"Being always a bit afraid of the water, this has really been a life changing experience. I will not be doing the Olympics any time soon, but I definitely am happy with the outcome."
"I thought the crawl basic course was a very nice course, very relaxed setting, Niels is a great teacher with an eye for detail, and a clear explanation. Before the course I had no experience with the front crawl, and now I can swim the front crawl in a good and relaxed way, and I have the basics to train this stroke in a good way. Outside the bath I also benefit from the body awareness that you get in this method, so that I am more often aware of my posture and can improve it."
"Nice course. You learn to swim again, but in a constructive way. Very nice to discover that you can swim quickly with not much effort. And the crawl like this is a beautiful stroke."
"In small steps, with good instruction and stimulating guidance, the basics for chest crawl learned in a short time."
"Great lessons, fun and effective."
"The swimming holiday to Croatia was wonderful! Good weather, beautiful people, learning new things every day in the salt water pool, fun optional activities and plenty of free time to go your own way. Perfect!"
"I thought it was a great experience to learn so much in such a short time! The classes were at the same time very relaxed, completely relaxed! Delicious! I had surgery on my back a few months ago, the result is not good, I hesitated to take the classes, but it has given me a lot of good! Recommended!"
"I was very happy with the front crawl level 1 course (in the swimming pool) as well as the 2 hour workshop in the lake 't Wed. Both have given me the skills to feel confident to swim laps in a pool or to swim in open water. Esther is a great instructor with patience and a passion for this sport. She is very relaxed and explains things in a concise and encouraging way. Anyone interested in improving their technique so you can swim more efficiently would benefit greatly from following Esther's courses."
"This course completely fulfills the promise! Really fun and educational to do."
"Perfect course. Never thought that something I've wanted to do for years could be taught so easily. I wish I had done it years earlier."
"A wonderful mix of sporting effort and relaxation. Exactly what I needed! Sun, sea, salt water and inspiring swimmers!"
"I have experienced the Shaw Method as subtle, friendly, logical, natural, intelligent and effective. The instructors are calm and thoughtful. The technology is made up of building blocks so that you can fall back on the basics if you have lost the technology for a while."
"Esther taught me the basics of the front crawl in 6 lessons. The lessons are very clearly structured and ensure that you slowly get used to a new habit. The Shaw Method provides a relaxed way of swimming where relaxation is the most important. The advanced lessons allowed me to continue working on my technique and since then I have been jumping in the pool with great pleasure and confidence. Thanks!"
"If you thought you could swim, give this a try. You will learn relaxing techniques from expert teachers in a beautiful swimming pool on the coast of Croatia."
"A wonderful hour of relaxing in the water and at the same time developing more feeling. Nice to experience how effective it is to apply the Alexander Technique to swimming! I recommend it to all swimming enthusiasts."