Great start to a new season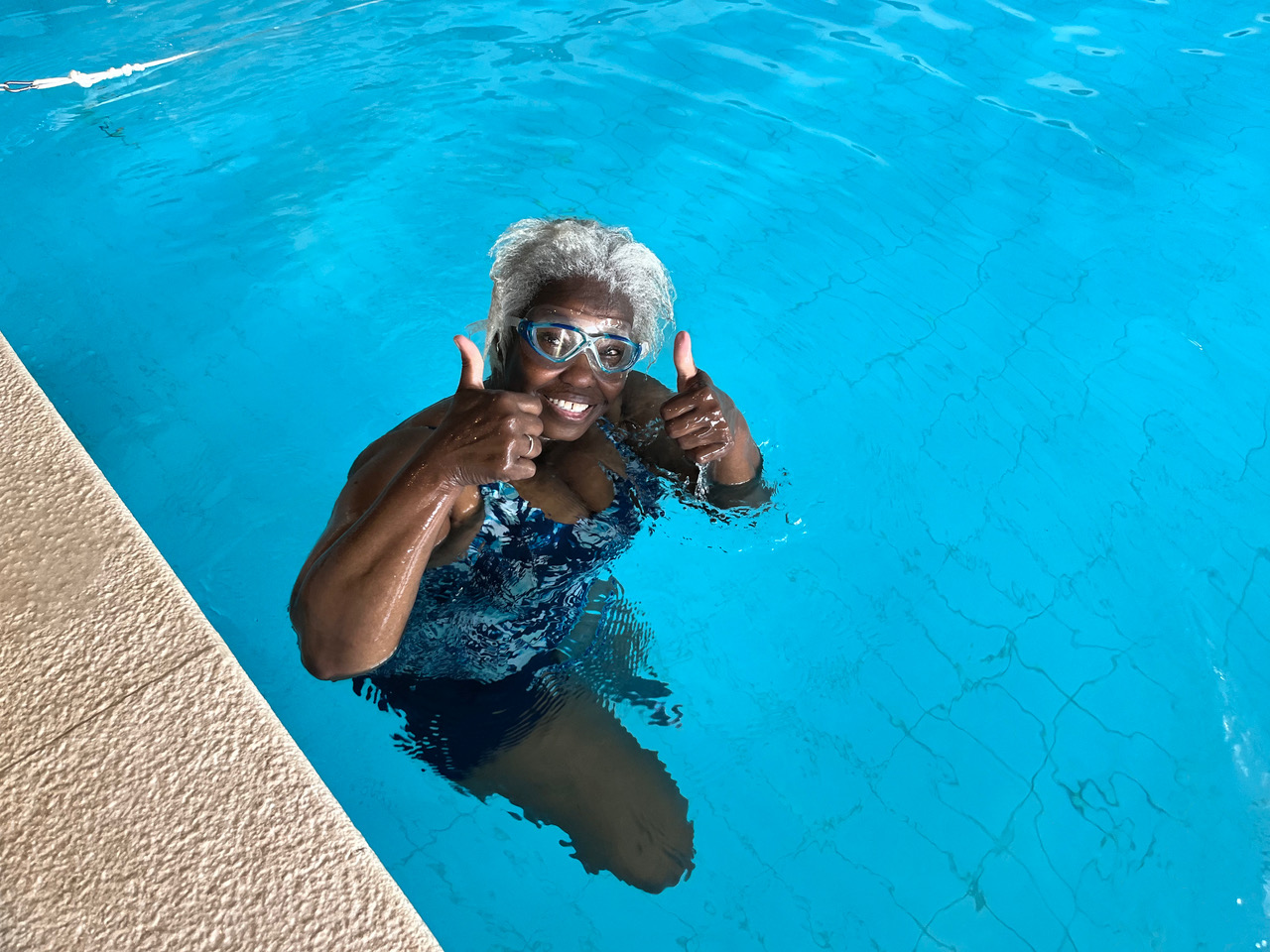 Dear students, former students and Swim in Balance enthusiasts,,
Next week we will start with the new season, we are looking forward to it!
The last 6-week open water courses of this summer will start next Sunday, and from Monday the 6-week courses will start in the swimming pools in Amsterdam, Utrecht and Haarlem.
We are overwhelmed by the amount of registrations… already ten courses are fully booked, great! So there are only a few spots left, I'll list them below, in case you still want to participate in the pool:
Last open water courses of this summer
Next Sunday the 6-week courses will start in Spaarnwoude, on Sunday morning. Tyrone will give these. There are still a few places, are you coming too? You can borrow wetsuits from us, you can stand there, there is a swimming ladder and there are showers in the hotel. Will you join us? We swim at a beautiful location, in the water behind Fletcher hotel in Spaarnwoude (near Haarlem).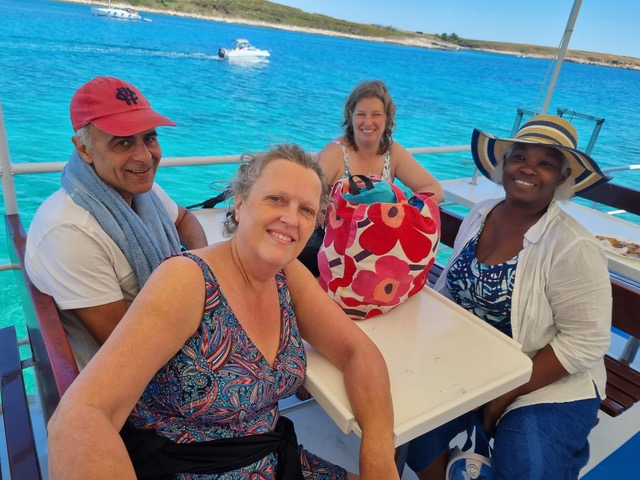 Last minute to Croatia?
Don't feel like Dutch autumn yet and do you want to spend some late summer with us in Croatia, while you learn two beautiful swimming strokes in one week? Which can! We still have places available for our trip in two weeks: from 18-25 September. Lydia and myself are coming along as instructors. Welcome!
The photo above was taken during our swimming holiday last July, during the cruise on our rest day. The water there is so beautiful turquoise! We enjoyed the beautiful group of participants.
During the holiday last May, Nicolien Mizee, a well-known Dutch writer who has been noted for the Libris literature prize, was there. She wrote a hilarious and very beautiful (at the same time!) piece about our swimming holiday as column on the back page of the NRC. It's called 'The shark method' (instead of the Shaw Method), very nice, thank you, Nicolien!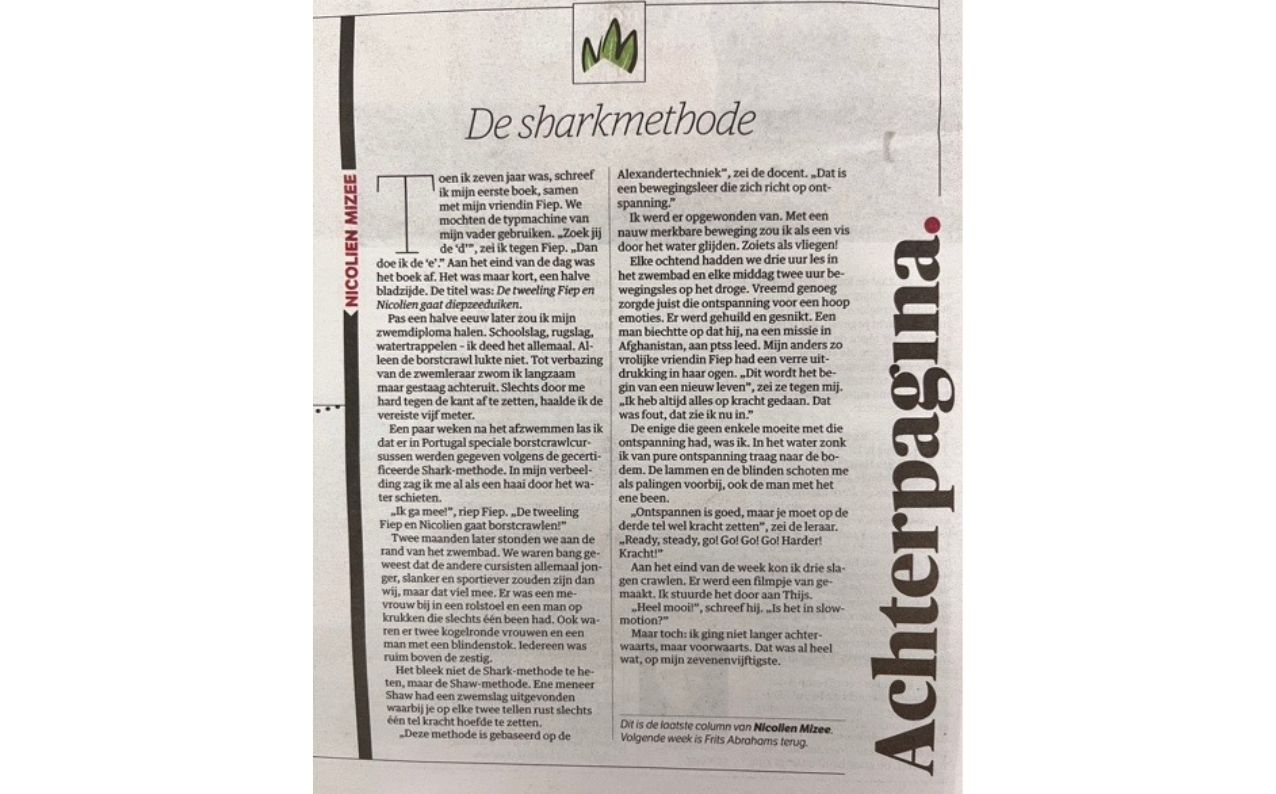 Personal news
Then some personal news… Last week I (Esther Visser, founder of Swim in Balance) went to the International World Alexander Technique Congress in Berlin, a 3-yearly meeting of all Alexander technique teachers from all over the world. There were about 600 participants. This is the technique on which our swimming is based. For 7 days I attended workshops with experienced international teachers, followed interesting presentations and discussions, and also gave a workshop (for the first time!) to colleagues. It was so nice to see how this technique is applied worldwide to topics such as running, swimming, making music, yoga, tai-chi, walking, acting, dancing, etc. All these activities gain in quality if you use the Alexander Technique as a starting point. takes (just like we do when swimming)! I came back completely inspired, full of ideas for Swim in Balance.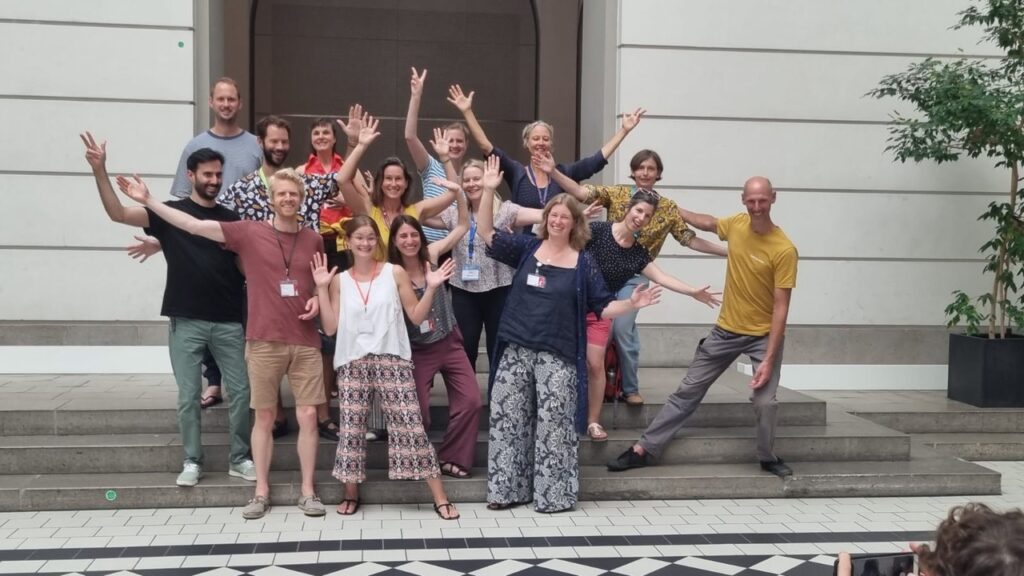 Do you also want to work at Swim in Balance?
We are expanding and therefore want to supplement our teaching team with more instructors. Are you enthusiastic about our method, do you want to learn to swim even more beautifully, are you analytical and do you like working with people next to your current job? Then write me a message and I'll tell you about the possibilities. Welcome!
To a beautiful new season!
Sincerely,
Esther Visser and the Swim in Balance teacher team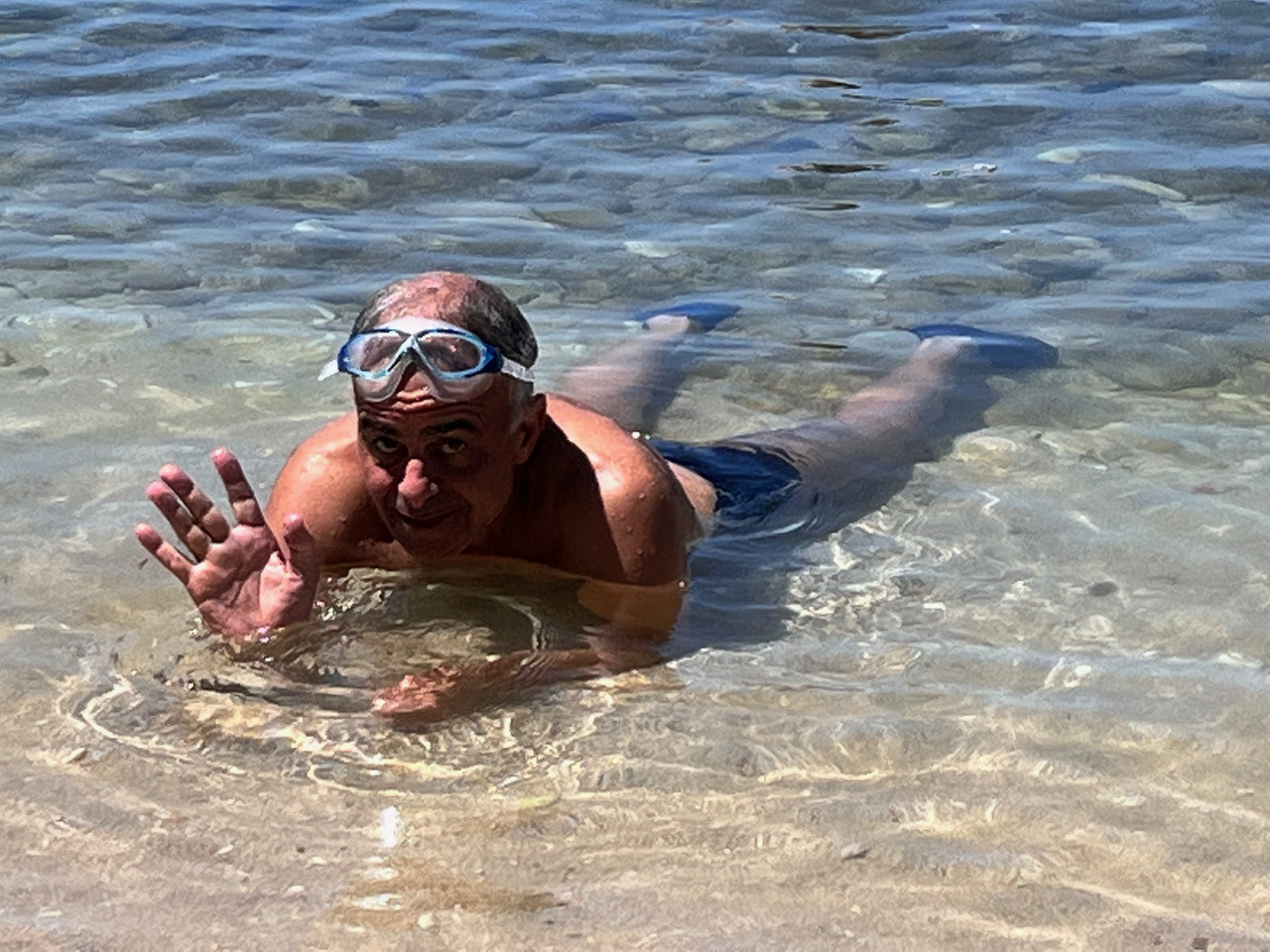 Share this post on:
---
Reviews
With the Swim in Balance basic crawl course I mastered the technique in a short time and in a nice way. In a nice bath and with a motivated group. Many thanks, Jenny!
Very good course, Trijntje takes the time for everyone.
The course is recommended if you want to be able to swim the front crawl in an efficient manner, with as little stress as possible on your body.
Now done the Chest Crawl 2 course. Can also recommend this course to everyone to dot the i's and cross the t's!
I really enjoy the lessons and get many new insights that help me further. Every swimming lesson I come out of the water so happy. Very nice of you to do this! Esther also looks and feels well with me. Very valuable!
I just wanted to say that I still have a big smile on my face now. Even though I know I'm not a born swimmer, it's all about having fun and I really enjoyed that yesterday. Very cool to experience how (part of) the global movement of the butterfly stroke feels.. It was so much fun!!!
Thanks to the breaststroke course, I have overcome my aversion to swimming underwater and am much more relaxed in the water. The guidance was very nice. This allowed me to step out of my comfort zone with confidence. Many thanks and maybe see you soon!
Nice courses! I have done both the breaststroke course and the front crawl course and I will continue until I have done all the courses. Why? It made me happy and I learned new swimming strokes in a nice way. Learning takes place in small steps, so that it is easy to follow for everyone and yet it is not boring for anyone. So the material is well put together. In addition, the courses are given by well-trained instructors who stand next to you in the water and clearly show the steps a number of times. If you want to learn how to swim well in a relaxed way, this is definitely recommended!
An absolute must - during the course (breaststroke) you learn to swim in a different way than you are used to. The teachers give clear instructions and also give individual feedback. In addition, I had a nice group (8 people).
A nice personal course in a small group. Where you can crack your brain while learning a (new) swimming stroke.
Very nice course! Good teachers and pleasant temperature water to practice well!
I have rediscovered swimming in a very relaxed way.
I am very satisfied with the way Tyrone and Esther have taught. I feel like a fish in water more than ever and the lessons at Swim in Balance definitely contributed to that. Satisfying.
I really liked the lessons. Esther teaches in a clear and professional way and there was a relaxed atmosphere. I notice that because of this course I now come out of the water nice and relaxed after an hour of swimming. Very glad I took this course.
Take a course. Swim in balance is good for your body and mind!
The step-by-step learning approach worked very well for me. Esther's feedback did the rest.
I think you are doing very well from the course. You will also learn something that will benefit you for the rest of your life. Keep it up. I am glad I came to you.
In 3 months time I can now swim 1km front crawl, I never thought that! I could barely front crawl for this.
Very nice course where you can get out of your head and learn something new!
Nice, clear, didactically well structured swimming lessons. Have therefore learned the technique and breathing at chest crawl in a relaxed way. Recommended.
I have (already) followed a very nice course. Under professional guidance I was taken step by step in learning a new swimming stroke. It feels like dancing in the water. Recommended!
During the basic front crawl course, it was explained step-by-step and clearly how we can crawl according to the Shaw method. This is quite a bit different from what I've ever learned. But because of the clear explanation and the slow build up of the battle, it was easy to adjust. Lydia was also a very nice and enthusiastic instructor.
If you want to learn how to swim better and have 6 evenings in a nice group…. then Swim in Balance is the right choice! in 6 evenings I learned to crawl well.
Fantastic, every lesson gave a feeling of victory and euphoria. Guidance was excellent, no pressure but just the will to try.
Every lesson something was conquered and every week my confidence in the water grew. The last two lessons I cycled home with a big smile.
In 12 weeks I now swim 1000m front crawl, before this I barely made the 25m, so crazy!
Great meaningful DIY vacation. Didn't think I could learn so much in a week.
What else do you want? With nice people on a trip to a sunny holiday resort and then also learn a lot. I loved this swimming vacation! Thank you Esther, Tyrone and fellow swimmers!
"Last Wednesday I had my first private lesson with you. We are now two days later and I am still living on the energy and relaxation of 1 hour of swimming. Every euro of the almost 600 I spent is so worth it. And that is largely due to the way Esther teaches. She is calm and knows how to convey the technique in a special way that I don't need to explain it a second time. I have already decided that after this I also want to follow front crawl 2 through private lessons.".
"Very nice week in a nice environment to learn the Shaw method."
"If like me you thought you could never learn to crawl, and if you want to learn to get more impact (not just in the pool) with less force, then this is a course to do. Accessible, nice people, interesting method, wonderful location and real results."
"I wholeheartedly recommend Swim in Balance swimming holidays. Learning a new stroke really well, with all the individual guidance that every participant needs, is guaranteed to succeed here. In addition, I learned a lot about the Alexander Technique, on which Swim in Balance bases its swimming method – also super valuable for other sports, making music and life in general. Even though we worked hard, it really felt like a holiday – great to hit the sauna after a swim! I wish Swim in Balance many more happy participants!"
"A memorable adventure, where to my amazement I really learned to front crawl, unbelievable!"
"Great, fun course, does what it promises"
"During the basic front crawl course, it was explained step-by-step and clearly how we can crawl according to the Shaw method. This is quite a bit different from what I've ever learned. But because of the clear explanation and the slow build up of the battle, it was easy to adjust. Lydia was also a very nice and enthusiastic instructor."
"All my life I was afraid of water and afraid of learning to swim. But after 6 weeks of Water Confidence I managed to leave most of my fear behind. Fantastic, I am very grateful to you!"
"Take a course. Swim in balance is good for your body and mind!"
"I have (already) followed a very nice course. Under professional guidance I was taken step by step in learning a new swimming stroke. It feels like dancing in the water. Recommended!"
"I really benefit from the lessons and come home happy every time."
"I have never dared to put my head under water in all my life. After 2 lessons with Esther I completely got over my fear and because of that I was able to snorkel with the sea lions and their babies during my holiday in Galapagos!!! Top!!!!"
"I've been trying to teach myself the front crawl for years. With regular lessons you are quickly "forgotten" as a beginner. Esther teaches you, in a relaxed way, a very nice stroke without forcing your back or shoulders. From water habituation (floating) to the entire stroke. Recommended!"
"The course really made me realize that the more aligned you are in the water, the more comfortable swimming is. Very glad I learned this, thank you!"
"Celebrating a holiday and also learning something has never been so much fun!"
"Instructive course, recommended!"
"Finally working on my front crawl in a relaxed way, before I mainly did this with brute force, but now through Swim in Balance courses and exercises this is done in a relaxed way, very happy with it."
"This special journey has brought me a lot, through the Alexander swimming technique and the relaxing way of teaching I have become friends with water again. Besides this "friendship reunited", other wonderful people and experiences have come my way. Thanks for this special week."
"My experience with the course was teaching the professional approach of the correct technique, in both the group instructions and the individual guidance, as well as the conviviality."
"Being always a bit afraid of the water, this has really been a life changing experience. I will not be doing the Olympics any time soon, but I definitely am happy with the outcome."
"I thought the crawl basic course was a very nice course, very relaxed setting, Niels is a great teacher with an eye for detail, and a clear explanation. Before the course I had no experience with the front crawl, and now I can swim the front crawl in a good and relaxed way, and I have the basics to train this stroke in a good way. Outside the bath I also benefit from the body awareness that you get in this method, so that I am more often aware of my posture and can improve it."
"Nice course. You learn to swim again, but in a constructive way. Very nice to discover that you can swim quickly with not much effort. And the crawl like this is a beautiful stroke."
"In small steps, with good instruction and stimulating guidance, the basics for chest crawl learned in a short time."
"Great lessons, fun and effective."
"The swimming holiday to Croatia was wonderful! Good weather, beautiful people, learning new things every day in the salt water pool, fun optional activities and plenty of free time to go your own way. Perfect!"
"I thought it was a great experience to learn so much in such a short time! The classes were at the same time very relaxed, completely relaxed! Delicious! I had surgery on my back a few months ago, the result is not good, I hesitated to take the classes, but it has given me a lot of good! Recommended!"
"I was very happy with the front crawl level 1 course (in the swimming pool) as well as the 2 hour workshop in the lake 't Wed. Both have given me the skills to feel confident to swim laps in a pool or to swim in open water. Esther is a great instructor with patience and a passion for this sport. She is very relaxed and explains things in a concise and encouraging way. Anyone interested in improving their technique so you can swim more efficiently would benefit greatly from following Esther's courses."
"This course completely fulfills the promise! Really fun and educational to do."
"Perfect course. Never thought that something I've wanted to do for years could be taught so easily. I wish I had done it years earlier."
"A wonderful mix of sporting effort and relaxation. Exactly what I needed! Sun, sea, salt water and inspiring swimmers!"
"I have experienced the Shaw Method as subtle, friendly, logical, natural, intelligent and effective. The instructors are calm and thoughtful. The technology is made up of building blocks so that you can fall back on the basics if you have lost the technology for a while."
"Esther taught me the basics of the front crawl in 6 lessons. The lessons are very clearly structured and ensure that you slowly get used to a new habit. The Shaw Method provides a relaxed way of swimming where relaxation is the most important. The advanced lessons allowed me to continue working on my technique and since then I have been jumping in the pool with great pleasure and confidence. Thanks!"
"If you thought you could swim, give this a try. You will learn relaxing techniques from expert teachers in a beautiful swimming pool on the coast of Croatia."
"A wonderful hour of relaxing in the water and at the same time developing more feeling. Nice to experience how effective it is to apply the Alexander Technique to swimming! I recommend it to all swimming enthusiasts."