Swimming holiday on the southern tip of Istria
After successful editions in previous years, we will again organize three one-week swimming holidays in 2023 in the same wonderful 4-star hotel, directly on the Adriatic Sea, in Istria. Are you coming?
Optional:
Introduction course Alexander Technique (3 x 1 hour), Private Alexander Technique lessons, Open water swimming workshop, extra back crawl course, private swimming lessons, wellness, excursions, bike rental, tennis, etc.

Are you interested? Let us know.

During this holiday you will receive two hours a day Shaw Method swimming lessons for one week, with a rest day in the middle of the week. You can choose two courses from: crawl level 1, crawl level 2, breast stroke of butterfly. In a 25 meter indoor pool filled with filtered seawater, right by the sea!
Where is it?
The swimming holiday takes place in the Park Plaza hotel 'Belvedere' in Medulin, near the city of Pula, in the extreme southern tip of Istria. The hotel is 200 meters from the sea (snorkeling!) and has two outdoor pools in addition to the indoor pool. Please note that in the preseason the outdoor pools are still very fresh. We bring wetsuits for the sea. In the high and late season this is not necessary, then the sea is well warmed up. From Pula airport it is a 15 minute taxi ride. There are direct flights from Amsterdam-Pula and Rotterdam-Pula. You can also fly to Venice and take the ferry to Pula in 3 hours, a beautiful trip.
How intensive is the program?
Depending on your own wishes, you can make your program as intensive as you want, or enjoy snorkeling and lazing on the beach. The holiday is very suitable for people who participate individually. You can also bring family or friends. They don't necessarily have to participate in the swimming activities, there are many other fun things to do. You can book their stay (including half board and use of the swimming pools) through us at a discount and enjoy a holiday together.
Exclusive swimming holiday by Swim in Balance! Sounds good!
But I have a few more questions.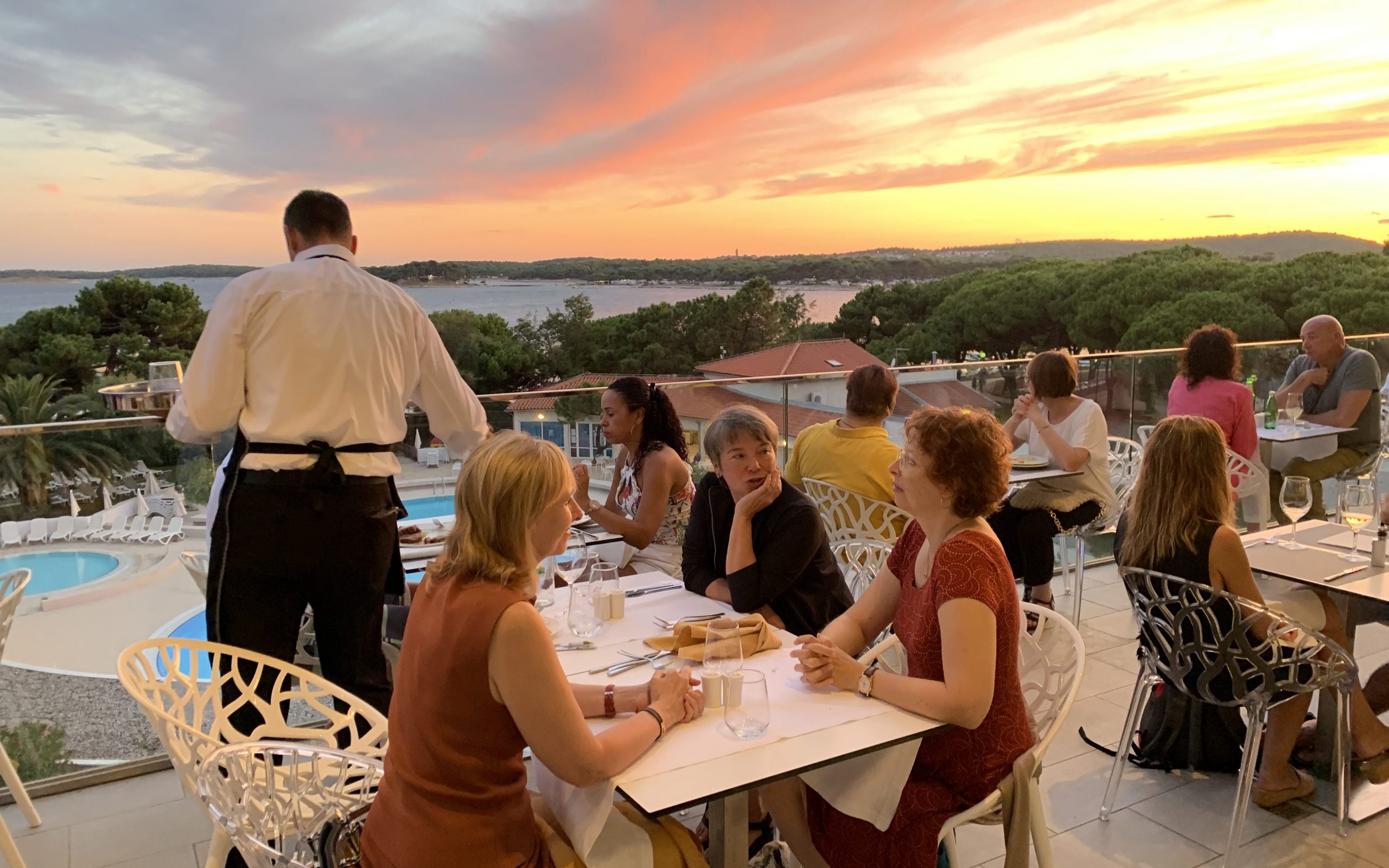 What else can I participate in besides the 2 courses?
What other facilities are there?
The Shaw Method
Swim in Balance teaches based on the Shaw Method. The aim is to learn a beautiful swimming stroke, so that you can enjoy swimming in a way that is extra healthy for the back, neck and shoulders. Targeted at long distance swimming and therefore very suitable for triathlon swimmers† But: speed alone is not our highest goal. Enjoying swimming and efficient technique are paramount. The groups also consist of a maximum of 8 participants per course during this holiday and the teachers are with you in the water.
Sign up now and experience your ultimate swimming holiday!
To register for this holiday, click on the button above or write an email to: info@swiminbalance.nl.

Then you can receive more information about, for example, the rates for family members and get answers to other questions. Because the hotel is very popular, we recommend that you register as early as possible, then we have the best chance that we can still reserve your room. Last minute bookings are a gamble, but possible. We expect between 15 – 20 participants.
Prices passive participants: pre-season 800 euros, high season 1000 euros, late season 900 euros based on a double room and half board, and including a shared boat trip.
Alexander Technique introductory course
During these swimming holidays it is possible to follow an introductory course of 3 x 1 hour given by the founder of Swim in Balance, Esther Visser. She is an Alexander Technique teacher and professional violinist. In this course (on dry land!) you will learn more about efficient and healthy exercise in daily life: walking, sitting, getting up from a chair, picking up something from the floor, sitting behind a computer, etc. What happens with the balance on your feet? How does the balance of your head affect the use of your joints? How can you reduce tension in your shoulders, etc. In short: More efficient and healthier living. If you find this interesting then this course is definitely recommended!

A warm welcome!
Reviews
Very nice week in a beautiful environment to learn the Shaw method.
If like me you thought you could never learn how to crawl, and if you want to learn how to get more effect (not just in the pool) with less power, this is a course to do. Accessible, nice people, interesting method, wonderful location and real results.
I wholeheartedly recommend the swimming holidays of Swim in Balance. Learning a new stroke really well, with all the individual guidance that every participant needs, is guaranteed to succeed here. Moreover, I learned a lot about the Alexander Technique, on which Swim in Balance bases its swimming method - also super valuable for other sports, making music and life in general. Although we worked hard, it really felt like a holiday – great to dive into the sauna after swimming! I wish Swim in Balance many more happy participants!
A memorable adventure, where to my amazement I really learned to front crawl, unbelievable!
Taking a vacation and learning something has never been so much fun!
This special journey has brought me a lot, through the Alexander swimming technique and the relaxing way of teaching I have become friends with water again. In addition to this "reunited friendship", other wonderful people and experiences have also crossed my path. Thanks for this special week.
The swimming holiday to Croatia was wonderful! Good weather, beautiful people, learning new things every day in the salt water pool, fun optional activities and plenty of free time to go your own way. Perfect!
A wonderful mix of sporting effort and relaxation. Exactly what I needed! Sun, sea, salt water and inspiring swimmers!
If you thought you could swim you should give this a try. You will learn relaxing techniques from expert teachers in a beautiful swimming pool on the coast of Croatia.