Information for families
The swimming holidays at Swim in Balance are extremely suitable for participation by families. Both the parents and the children can learn a motion swimming stroke independently of each other at their own level. The parents join the adult courses in the morning, while childcare is available through the hotel. The children receive a separate (shorter) swimming course in the afternoon, while the parents have time to themselves, for example to sit on the beach.
A children's course consists of one hour a day, for 6 days. Here a child can learn 1 specific swimming stroke (butterfly stroke, crawl or breaststroke) very nicely. The program is adjusted in consultation depending on the availability of the teachers present. Adults can concentrate longer and therefore receive 2 hours of lessons a day, so that they can learn two strokes in 1 week.
The Shaw Method teaches you to be mindful about a specific activity, which is a valuable skill for children for the rest of their lives. This is where our teaching method differs greatly from other swimming schools.
In the afternoon there are plenty of opportunities to do something fun as a family, such as mini golf, renting bicycles, snorkeling, etc.
We can rent special family rooms at the hotel at a discount, depending on the size of the family. Email us for a specific quote.

Read here the experience of the Cihangir family who took part in our swimming holiday with 2019 people in 6:
Participants: Family Cihangir parents Aydin (40) Anouk (44), Sons Zana (17) Loran (10), daughters Rosa (8), Piédra (7).
As a holiday, our children want to go surfing with the whole family in Hawaii. Then you must be able to swim very well! Last year we came across Swim in Balance on the internet. We were then just too late to go to Croatia. This year we were on time. Everyone was very excited beforehand. My husband already took a sneak peek at a one-day course at Swim in Balance on the weekend prior to the course. He came home very happy and relaxed. "This is going to be really fun in Croatia".
Day 1 Saturday. After a beautiful 4 day car journey through Germany, Switzerland, Italy and a small part of Slovenia, we arrived at hotel Belverdere in Medulin Croatia. Beautiful hotel, light modern Luxurious and super friendly. There was Esther, our swimming teacher this holiday, to welcome us. We went to our rooms and then got to know our fellow students. Very nice and very diverse company, each with its own motivation to participate in this swimming course. Esther gave us a menu with our program for the week and the introduction to it.
Day 2 Sunday. Slept great, super breakfast buffet including lots of fresh fruit! Our son Zana had the first lesson 9-11 with his group in the (salt water indoor pool!). We went swimming with the girls in the sea. In front of the hotel is a beach with comfortable sunbeds and beds. After that 11-13 Aydin and our first swimming lesson. The children swim and play in the pool next door and have a great time! Esther has all kinds of professional swimming goggles with her that we can purchase from her. When I'm floating in the pool with my goggles on with my head down. I feel panic rising, OMG what have I started. Now I really have to perform something during my holiday and that will be very difficult and heavy I think. Then Esther gently holds my neck and puts her hand gently on my shoulders, "relax everything", "make small air bubbles in the water". While she is saying this, the tension and unrest already disappears. I just do exactly what she explains very clearly and calmly and, above all, demonstrates. We learn to breathe relaxed underwater by singing Long Shall She Live. Learning that when you swim a lot of energy goes to your brain if you worry and think a lot and you can therefore last less long. We have fun with the other participants, together in the same boat. The 2 hours of class fly by! Yeah I think this is fun!
In the afternoon our 3 youngest children have lessons, the youngest has diploma A, the others A & B. We read and swim at the outdoor pool, right next to the indoor pool. Every now and then we look inside and see the kids and Esther. Completely chill and happy at the same time they are at the end, we learn the butterfly stroke!
In the evening we eat together with our family and also chat with the other participants. We are in a beautiful place and everything is well organized and cared for. We are already thinking how nice this is!
Day 3 Monday. In the morning from 7:00 to 8:00 Aydin and Zana go with Esther and 2 other participants in the course running along the beach with the Alexander technique. The little ones are still sleeping and I read a book on the balcony. The tennis courts are being raked. The yoga teacher lays out his mats on the grass. After that, everyone has his/her day program and in between we mainly snorkel a lot at the beach and the pier right in front of the hotel. There are so many fish and fish, we all bought teletubbie snorkels and flippers on the beach. The girls are in the water non-stop.
The strange thing is, we all have a full program but it all goes very relaxed! This is due to the preconditions, everything is just very well arranged and take care of our swimming teacher Esther in the first place!
Day 4 Tuesday. Today we are going to dot the i's with the breaststroke, swim like a dolphin and that is going great. Everyone is focused and relaxed at the same time. It is strenuous and relaxing at the same time. Sporty and meditative really very special. Above all, it will make you very happy. After the swimming lesson there is the beautiful area around the pool. Fun activities for the children are also organized by the hotel's enthusiastic entertainment team. Archery is a favorite of our children. There are also Yoga & Pilate classes. Dinner in the evening is very extensive, different every evening, freshly prepared, also vegetarian and lots of fresh fish.
Day 5 Wednesday. No lesson today, we are going on a boat excursion with the whole group and in the evening we go on a kayak trip over the sea by moonlight. Esther is such a great swimming teacher, a good hostess and also very nice company! I had a great birthday today :). Esther had passed on that it was my birthday and the people from the boat excursion even came to delight me with a homemade cake with candles, very unexpected and very sympathetic! Today we moored the boat in the sea near a cave, jumped aboard and happily swam to the cave with Esther. I no longer have a fear of swimming in the sea, even with my children around. We need more practice, but we'll be fine. Kayaking over the moonlit sea and countless stars in the night was unforgettable.
Day 6 Thursday. Today we start with our second swimming course, we go for the front crawl 1. Zana goes for the butterfly stroke and the children who have 1 hour lesson instead of 2 continue with the butterfly stroke. We are all in a wonderful rhythm and what a nice holiday this is. You will not be bored for a moment, you are really working together as a family, you work on your own skills and there is time for your own relaxation and rest. You are very well looked after.
Day 7 Friday. Today was equally spicy with the salt water in the nose with the breathing at the front crawl. But Esther showed us the way and motivated, step back if necessary and steadily. Today we got out of the pool tired but satisfied. A number of participants agreed to take another trip to Pula to see the Archeon there. We stayed "at home".
Day 8 Saturday. Today our last course day, swimming lessons, sea, packing and checking out goodbye to Esther and the group that flew back to the Netherlands in the afternoon. Stuff loaded in the car. We have spent the whole day at the pool and in the sea, it was no problem at all. In the evening we started the return trip to Amstelveen completely ZEN. What a good plan this was for the summer holidays! In the Netherlands we will continue with swimming lessons at Swim in Balance and we think it is very valuable and nice for our team. Esther thank you so much <3
Amstelveen, September 4, 2019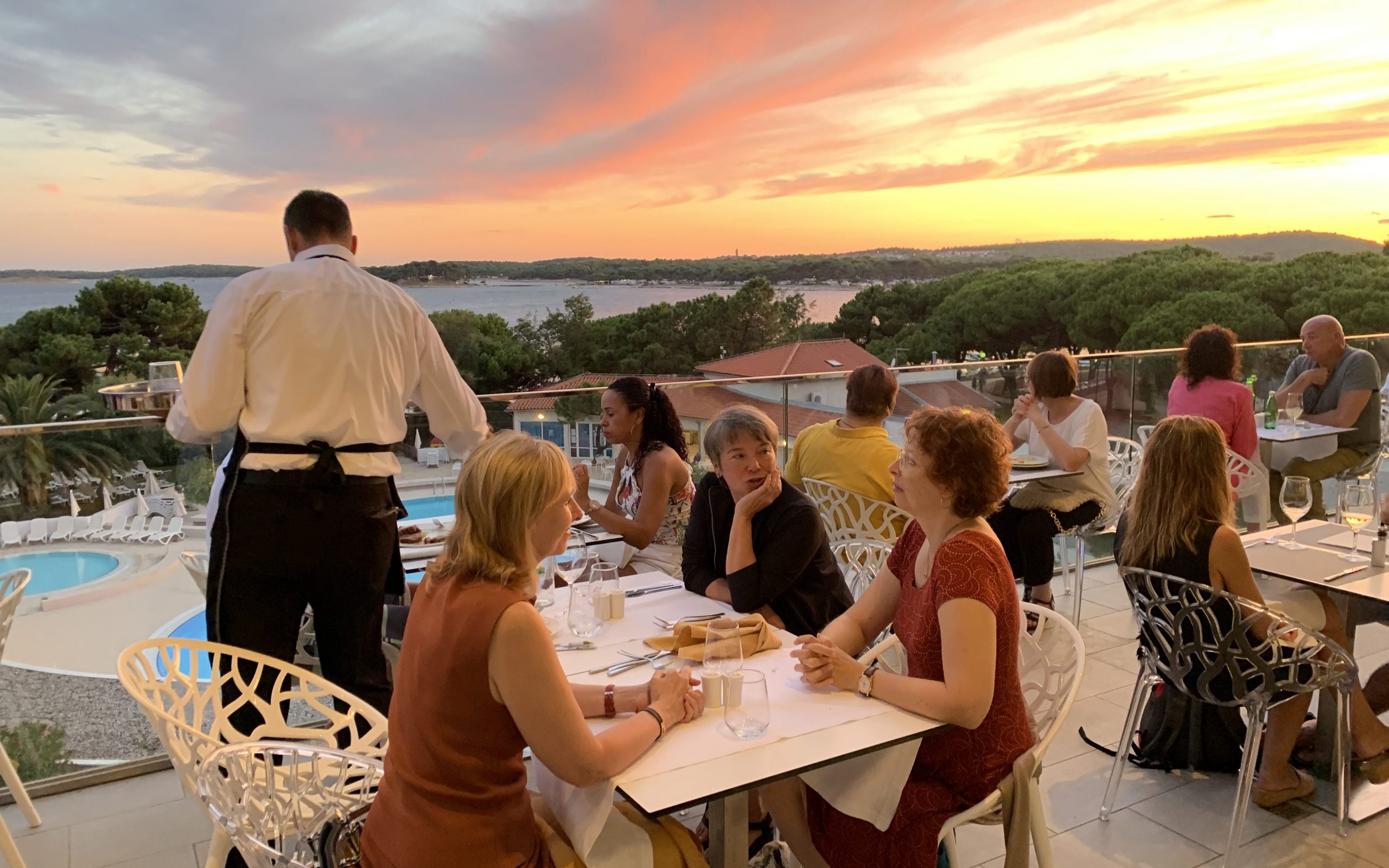 Sign up now and experience your ultimate swimming holiday!
To register for this holiday, click on the button above or write an email to: info@swiminbalance.nl.

Then you can receive more information about, for example, the rates for family members and get answers to other questions. Because the hotel is very popular, we recommend that you register as early as possible, then we have the best chance that we can still reserve your room. Last minute bookings are a gamble, but possible. We expect between 15 – 20 participants.
A warm welcome!