SWIMMING CLASS FOR ADULTS
Are you already familiar with the Shaw Method? Whether you are a beginner swimmer or someone who wants to learn a new stroke, the Shaw Method is suitable for everyone. Also for an experienced swimmer who wants to learn to swim more streamlined and with better body use. Read more about swimming lessons for adults here!
No flotation devices
De Shaw Method is swimming, but not in the way you know it. Perhaps with a swimming instructor you have an image of someone shouting at you from the shore, while you cling to a floating board. That's not how the Shaw Method works. The teachers guide you from the water. This way they can easily communicate with you, provide hands-on guidance and directions where needed. There are no flotation devices involved, you learn to optimally develop your own buoyancy.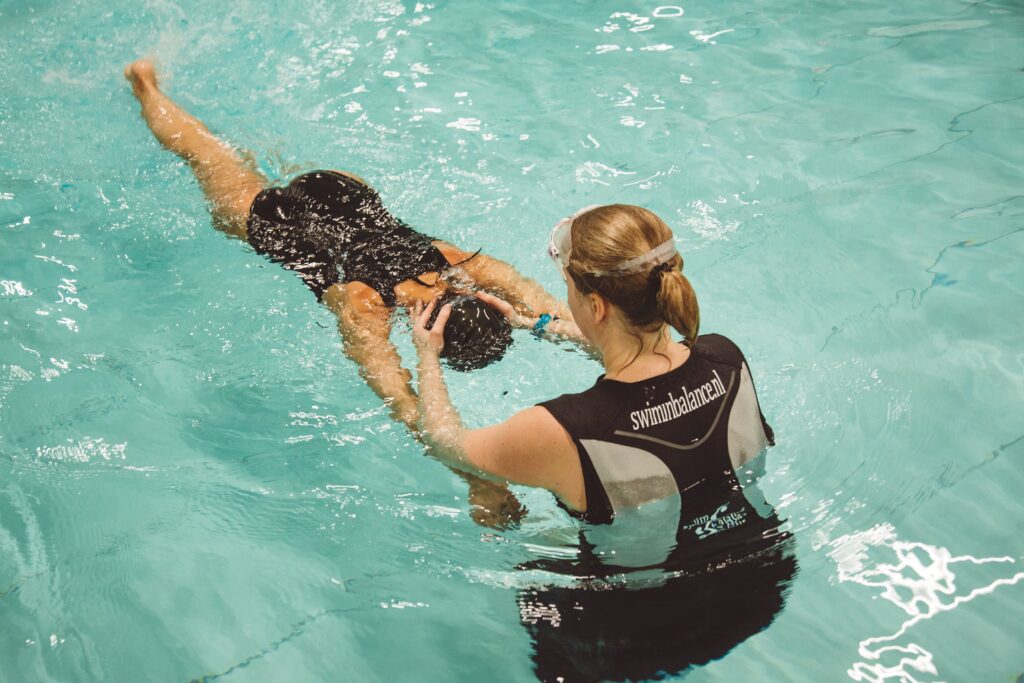 Drogeland sessions
There is also practice next to the pool, on dry land. This seems weirder than it is. Esther Visser van Swim in Balance teaches swimming lessons for adults according to the Shaw Method and talks about the exercises outside the water: 'They are designed to teach new movement patterns and you will soon find that the dryland sessions are very valuable for learning how to move better in the water.'
The Alexander Technique
The method is completely based on the Alexander technique. This is a technique that teaches you how to use your body without overloading it. Esther explains: 'This technique helps to unlearn unfavorable habits and to learn more favorable new habits. The Shaw Method accomplishes the same thing in the water. This way you become more aware of your body, you swim more efficiently and you prevent injuries.' The Alexander Technique is known worldwide and is used by athletes, dancers, singers and musicians.
Swimming lessons for adults
Swim in Balance has a wide range of swimming lessons for adults. You can choose a 6-week course front crawl course, breast stroke, butterfly of back crawl in a small group, with plenty of room for personal attention. You can also take private lessons. You do this alone or with a friend. Lessons last 30, 45 or 60 minutes. The subject of these private lessons is fully adapted to your wishes. Esther: 'If you don't have time every week, but you want to learn to swim in a group, you can also opt for a one-day workshop. You then learn all the steps of a swimming stroke in one day.'
After the course
To ensure that you can practice during or after a course, there is the possibility for all (former) participants to come and swim during practice hours. This way you work out the lessons yourself and you continue to work on maintaining and improving your swimming techniques. Swim in Balance gives swimming lessons for adults in all swimming strokes, to swimmers of all different levels. Also people with fear of deep water are welcome to a course specially designed for them.
Something for you?
Have you become curious about the course or one of the individual programs? On our website you will find all information about the classes and a calendar containing the starting dates of the various courses!